Euan Cook is an illustrator living and working in London. I had Euan's art samples for a long while, sitting and waiting on my desk for the right story. Eventually I found it and together, we watched a story unfold, words become illustrated, and characters drawn to life. And WOW–then we had a book!
Although Euan has drawn for books and magazines published around the world, Either Way is his first full-length graphic novel. You wouldn't know that from Euan's careful framing, thoughtful telling, and care with every illustration, so it was fun hearing how he got there, about his process, and about things he learned during the creation this graphic novel. We learned a lot, too. Graphic novels are no joke! Tricky little devils. So, with that, introducing Euan Cook!
Tells us a little about your background. What led you to become an illustrator? As a kid I would draw all the time, making comics, designing t-shirts, and drawing all over my school books. But it wasn't until studying art and design at University College Falmouth that I really learned what illustration was and it seemed a perfect fit. I went on to study illustration at degree level and was lucky enough to start getting jobs after graduating.
Tell us about your process. At the start of any project you need to read through the material, gather references, and start to build an idea of how characters and places look, try to define the tone. I tend to do a lot of drawings of the key characters, changing specific elements and trying out lots of options. I don't use much direct reference, but gathering as much material as possible at the start of a project is important, it all feeds in to the illustrations and you will thank yourself later.
Drawing the first few pages is always slow as you work out the process and smooth out any issues. Once a pace is established and with a deadline on the horizon it's four sheets to the wind until it's all finished!
How were these illustrations created? What materials did you use? The illustrations start off as a rough sketch, which gets traced and drawn over using dip-pen, brush and ink for the line work. To create a second, mid-tone layer, the black and white drawing is traced over again, using brush and ink to add areas that will become colour, suggest light, and add texture. Both the layers of ink drawings are then scanned in to a computer, where they are put together and turned into colour illustrations. At this point any extra detail and changes can be added.
What was fun or surprising about the illustration process? The need to develop a fast technique for producing lots of pages while still making rich, detailed, and characterful illustrations was interesting. I learned a lot about what is actually important, how to preserve the best of a drawing without having a lot of time to work it up as a finished illustration. Also I had worked on comics before but this reminded me just how much time it takes, and how much goes in to the design, layouts, and pacing at an early stage. In comics an effective, stylized image and good design seems to work much better than beautiful but static illustrations.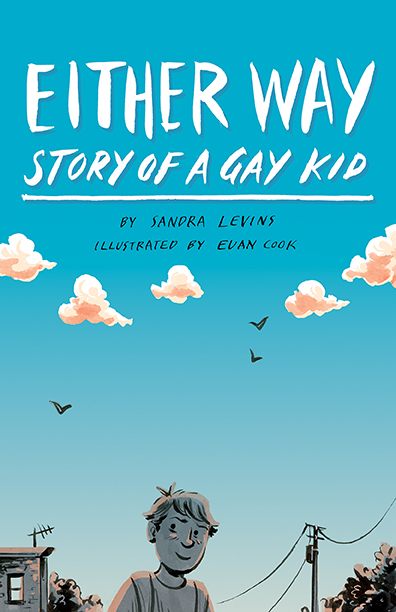 What was your favorite book as a child? Do you have any favorite illustrators? Not sure if I had one favourite book as a child but two spring to mind: Each Peach Pear Plum by Janet and Allan Ahlberg for its gorgeous, sprawling illustrations you can get lost in, and the Katy Morag books by Mairi Hedderwick, which have such strong, well observed locations and characters. With family from that part of the world they resonated with me. In terms of comics, Daniel Clowes is, of course, brilliant. His comic Ghost World really nails the teen experience and I wish I had discovered it a few years earlier than I did. More recently I have really enjoyed The Wrong Place by Brecht Evens and Kiki de Montparnasse by Catel Muller and Jose-Louis Bocquet.
Thanks Euan! -ke