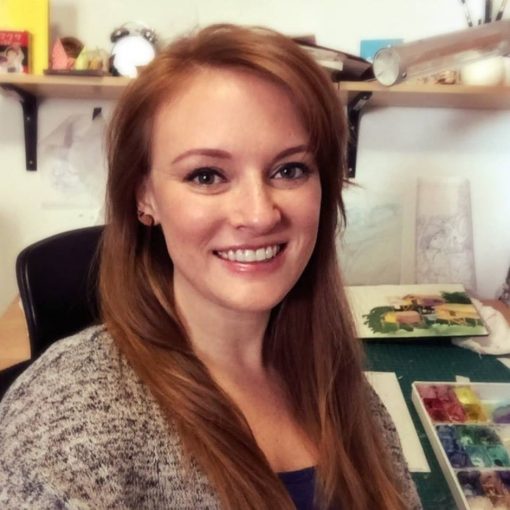 Jamie Tablason loves illustrating for children and the young at heart. Through whimsical imagery and engaging characters, she hopes to connect with her audience and inspire young and old to tell their own stories. Jamie received her BFA and MA in illustration from CSU Long Beach, School of Art. She currently works and lives in Lakewood, CA, with her husband and their two dogs, a basset hound and bulldog.
Passionate about illustrating from an early age, Jamie spoke with us about differentiating the personalities of her characters, the importance of the subtleties of colors, and how research can actually be a fun part of her process.
Without further ado, Jamie Tablason, everyone!
Tell us a little about your background. What led you to become an illustrator? I started drawing fun and silly pictures, as most small children do, but I never stopped! As a kid in elementary school, I would copy cover art on Disney VHS tapes and after years of copying characters, I began to develop my own. As much as I loved drawing, I also discovered that I loved telling stories through my imagery. My sister and I would come up with hilarious scenarios and stories, featuring us, our friends, fictional characters, and I would draw them. Even at an early age, I loved sequential imagery, seeing the evolution of characters and composing each scene. This is probably why children's books are my favorite form of illustration. Luckily, I was fortunate to have supportive parents and teachers who nurtured my passion along the way. During college, at California State University, Long Beach, I found myself gravitating towards a style that was more suited for children's picture books and educational materials. What began as childhood doodles eventually gave me a BFA and an MFA in Illustration.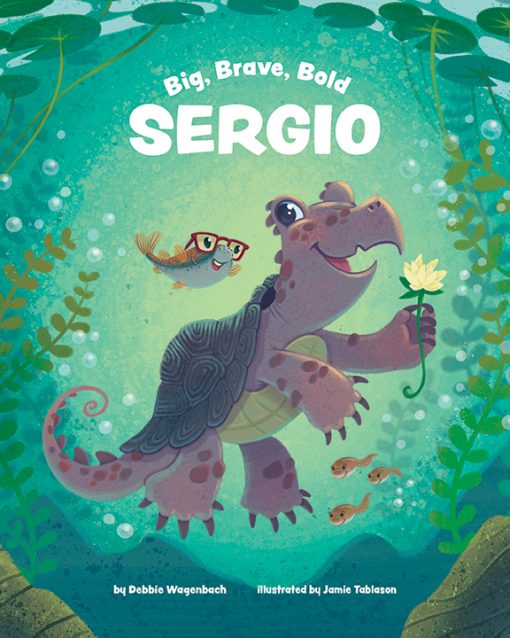 How were these illustrations created? What materials did you use? For Big, Brave, Bold Sergio, I used Adobe Photoshop on my Wacom Cintiq.
Tell us about your process. After reading a manuscript for a children's picture book, I will sketch a few of the main characters first. I play with style and try to get the personality of the character to show through in those initial sketches. After I have figured out the right style for the characters, I dive into the spreads and at this point, it is just sketching, no color yet. I love to start with the first spread and the last spread. I figure out how I am going to begin the book, introduce the characters and then end the story. Once I figure out the beginning and the end, I feel more comfortable to dive into the body of the book. Rhythm and pacing is important in picture books. For most books, and depending on the narrative, I like to open with a bang and end with a bigger bang. You don't want too many busy or quiet images right next to each other. After sketches are approved, I move into color, which plays a huge part in communicating the narrative. Naturally, I'm drawn towards very saturated colors, but for Sergio, I wanted a more subdued earthy and aquatic feel. I wanted the palette to be reminiscent of a freshwater pond where snapping turtles live. I used duller earth tones for the Snapper Gang while Sergio has a rosier, lavender color palette to reflect his optimism and brighter mood.
What was fun or surprising about the illustration process? Sometimes the best part about starting a project is that I am introduced to an unfamiliar subject matter, in this case, snapping turtles. Through my research, I stumbled upon a local reptile zoo that housed two, large snapping turtles. Sergio and the rest of the Snappers are based off the common snapping turtle, which have very interesting shells, skins, beaks, and almost a prehistoric looking tail like a stegosaurus. These features gave me tons of fun material to work with but achieving the right look for Sergio was a bit challenging. I wanted Sergio to look friendly and approachable yet retain the features of a snapping turtle without being too scary. I gave him a softer look through bigger eyes, rounded spikes and warmer colors. I also enjoyed designing each of the Snappers and wanted them to function as a group that was secondary to Sergio. My goal was to give them all their own distinct personalities; the big clumsy one, the skinny goofy one, and the short feisty one.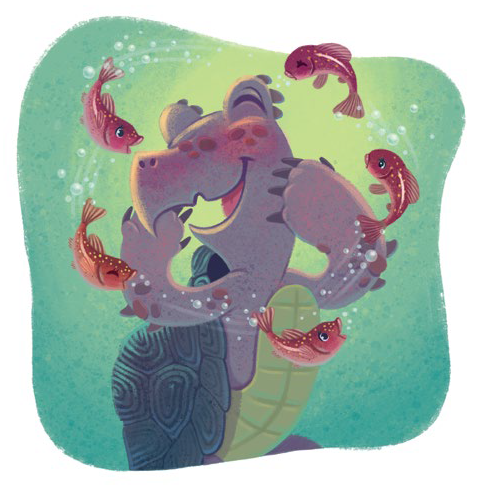 What was your favorite book as a child? Do you have any favorite illustrators?  Papa, Please Get the Moon for Me by Eric Carle is one of my favorites. As a child I loved his simple relaxing imagery, the fun narrative, and textures (I would try to scratch the paint texture off the page). I also loved Tuesday by David Weisner. This book came out when I was in first grade, and you were lucky if you got to check it out from the library. I was also a big fan of the American Girl series in elementary school. As an illustrator, my idol would have to be Mary Blair; her work and what she accomplished in her life inspires me. Her color palettes have been very influential to my work. I would also sell my soul to paint like J.C Leyendecker and Wayne Thiebaud.
— No need to sell your soul, Jamie; we love your work as is!