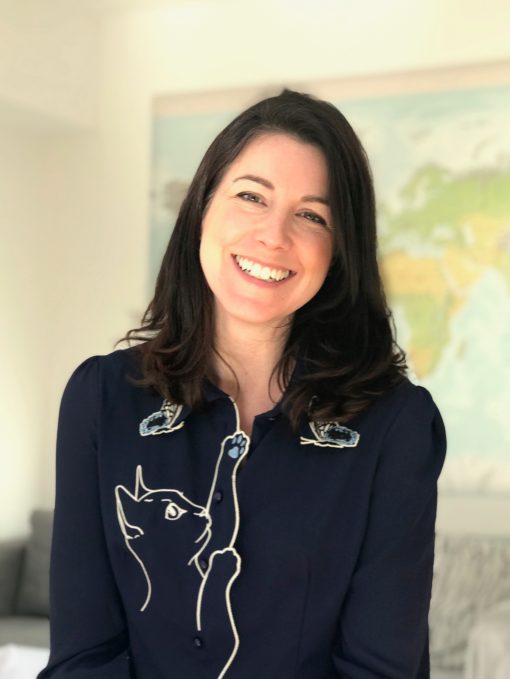 Jo Rooks is an illustrator, author, and graphic designer living in leafy South West London with her husband and two children. Jo studied at Bath School of Art and Design and pursued a career in graphic design. When Jo had her two children, she began to rediscover her love of art, poetry, and creative writing for children. She is passionate about reading with children and hopes to bring lovable characters and meaningful messages in her story books.
We are thrilled to be able to work with a talent such as Jo, who is both author and illustrator of A Box of Butterflies. On top of that, she is currently working on another book with us to be released in August, Hector's Favorite Place. Read on for an in-depth look into her creative and publishing process.
Introducing Jo Rooks!
How does it feel to be a published author?  It feels unbelievably amazing! Like a dream come true.  I have been imagining the feeling of holding my published book in my hands for years now.  It hasn't been an easy path for me though and has taken years of grafting, submitting work to publishers (which gets rejected), and trying to ignore that voice at the back of your head that continues to throw negativity your way.  It all seems so worth it now, and I am so looking forward to reading my book to children at schools and libraries!
What was surprising/different than you expected about getting a book published?  My most surprising thing as how enjoyable it is to work with an editor.  I absolutely loved the process of editing my manuscript.  When you are an Author/Illustrator, sometimes it can feel quite lonely and isolated.  It's difficult to get constructive criticism from friends and family (as they always like everything!), so having a publisher to bounce your ideas off of and fine tune your work feels really great.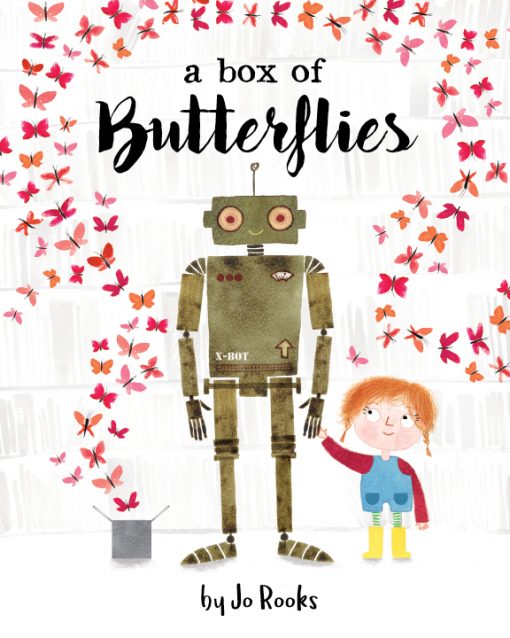 What children's book was your favorite (or made the most of an impact on you) when you were growing up?  I was a big Roald Dahl/Quentin Blake fan.  I vividly remember being completely absorbed by the story of the BFG and Witches.  I loved the extraordinary worlds that Dahl could take you, and his style of writing always felt like you were being let in on a rather amazing secret that no one else knew.
Any advice for new authors?  Getting a book published is a massive test of character to just keep going and not give up.  I would say in order to move your writing along you have to write a lot. Edit, re-edit, read it out loud over and over, then re-edit again.  It's a battle.  Expect LOTS of rejections.  The rejection letters will feel like a punch in the stomach, take the punch then look forward and don't dwell.  Keep creating new work and then you will begin to look back on your old stories and see them in a new light and recognise the progress you are making.  Also, consider getting an agent.  It has been invaluable having my agent because they have wider knowledge of publishers and the best people to submit to.
What inspired you to write this book?  This story was written in a very beautiful setting.  I was on holiday swinging in a hammock, in rural France looking out onto a corn field with the evening sun warming my face. It felt like this story just fell out of the sky and landed in my lap!  My youngest child was about 18 months at the time, and I think I was feeling so happy and full of love at that moment that describing that feeling seemed very natural. But I have also had low moments over the years and began to think about the visual qualities that other emotions might have.
How did you get your ideas for the characters?  I began to think what it might be like not to be able to feel emotions.  We would save ourselves from the more challenging emotions such as anger or jealousy, but then again, we would miss out on the wonderful, uplifting feeling that loving and being loved can bring.  I came to the conclusion that feelings and emotions were all just part of being human.  That is when I happened upon the idea of the two characters of Robot and Ruby.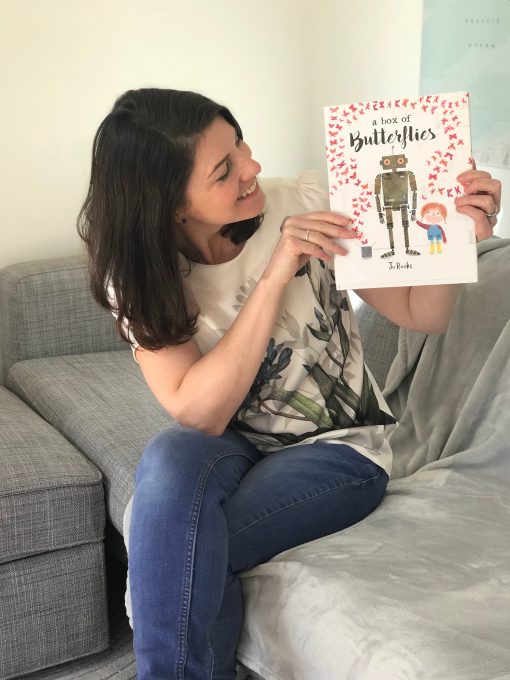 What made you want to publish with Magination?  This story in particular is a very powerful one. It has been created to be a starting point to a discussion with your child about emotions and how they make you feel.  Having a trusted publisher like Magination behind this book is a no-brainer.  As a parent, it is sometimes difficult to know how to cope with challenging behaviour from your children, and sometimes being a parent can test you to your very limits and bring about all sorts of feelings and emotions.  I hope my book might be a shared experience to help parents and children discover more about the way they feel and gain a greater understanding of emotions.  Having the Note to Parents written by a trained psychologist at the back of my book feels really reassuring.
What's another Magination Press book that you like, and why?  When I look through the Magination list, I am so proud to be amongst such talented writers and illustrators.  There is one in particular which I find a fascinating subject. The book is called I See You by by Michael Genhart, PhD, and Illustrated by Joanne Lew-Vriethoff.  It is about a homeless woman who everyone walks past and ignores everyday.  But a little boy sees her.  I love the way this draws attention to an issue largely ignored by adults and an interesting way to approach the subject with children.  It might bring about a sense of empathy with those living on the streets in adults as well as children.
Tell us a little about your background. What led you to become an illustrator?  I studied Illustration at Bath Art College, but after graduating I put my boxes of paints away and became a Graphic Designer where my work was dominated by macwork and photography.  I really enjoyed it, but I also missed my illustration side. After I had my two children, I began to be inspired by the children's books I was reading to them.  My eyes were feasting on all this amazing illustration work, and I began to enjoy a trip to the children's section of a bookstore as much as they did.
Before long, I began to write the stories and poems I made up for them. I began to think of ideas through the things they said and trips to the park would always result in me scribbling down something on the back of a used envelope.  I began carrying a sketchbook, but it was as if my art was locked deep within me and I found allowing myself to draw, sketch, and make mistakes very difficult.  I went on an illustration course, which I found difficult but that course pushed me to keep a sketchbook and keep drawing and scribbling down ideas. That's when it began to flow better and I found more confidence in my art.
How were these illustrations created? What materials did you use?  I have a process of painting in watercolour and inks, then scanning these in and cutting them up in Photoshop.  This allows me to move things around like you would a collage, overlay elements to produce interesting effects but still retain the handmade qualities of real paint on paper that I love so much. I then sometimes use the Photoshop tools and brushes on top to add extra detail if needed.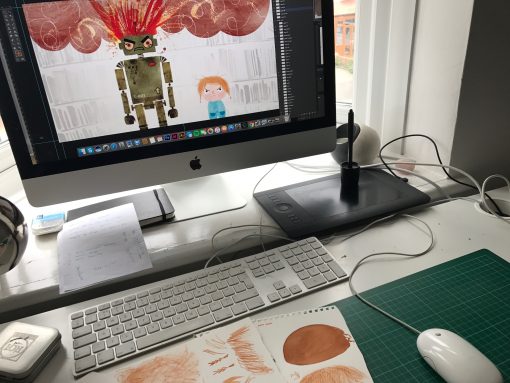 Tell us about your process.  Like most illustrators, the process is a long one!  It starts with drawing from life and from photos from the real world.  I am not a fan of pencils and lines and so prefer to draw with paint.  This often doesn't work out, but when it does, it looks great!  I love a moleskine sketchbook and like to have lots of smudges and crossed out bits and shopping lists in there as well just to remind myself that it is not for anyone apart from me.  From my sketches, I then begin the process of painting the various elements of my characters and then go into Photoshop to play about until I feel it's right.
What was fun or surprising about the illustration process?  I would describe some pieces that I have produced like being in a wrestling match with the art. But when you 'get it' and everything comes together, it's an amazing feeling. I enjoy it when I am in 'flow.'  I often have to listen to something to help me get into this state.  Very rarely do I listen to music when I'm working as I find it too distracting.  My favourite thing to listen to is talking, so I am a great fan of Audible.
Do you have any favorite illustrators?  Plenty!  I have been very much inspired by the work of Yasmeen Ismail, Marc Martin, Jon Klassen and Sara Ogilvie.  I also have some amazing illustrator friends such as Zehra Hicks, Jane Porter, Rebecca Gerlings and Christian Fox who have influenced me significantly.  The work of other illustrators' social media platforms such as Instagram acts as a constant supply of inspiration for me!