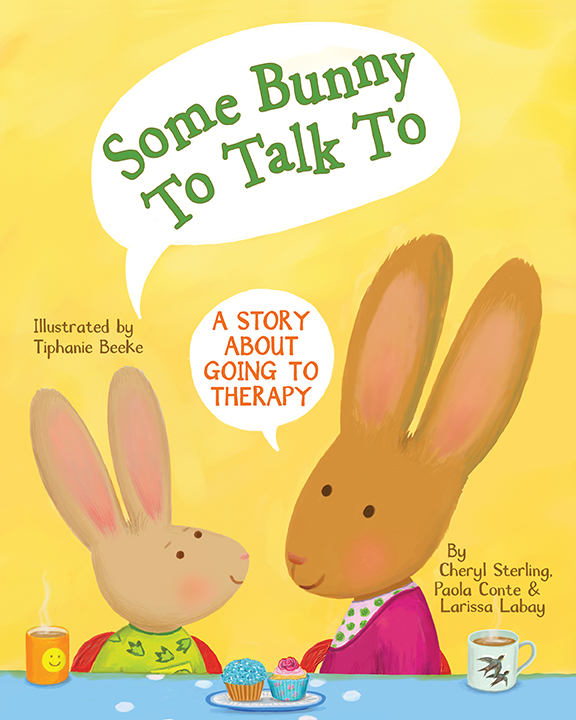 Cheryl Sterling, PhD, Paola Conte, PhD, and Larissa Labay, PsyD, are pediatric psychologists in private practice who specialize in providing cognitive-behavioral therapy to children and adolescents. They trained at Brown and Harvard University, the University of Miami, and the Children's Hospital of Philadelphia, respectively. Cheryl Sterling and Larissa Labay are on staff at a major medical center in Northern New Jersey, while Paola Conte practices on Long Island, NY.
Cheryl, Paola, and Larissa are the authors of Some Bunny To Talk To: A Story About Going to Therapy. Over the summer we caught up with them to ask a few questions. Hop on down to read what they said!
What's your normal writing process? How do you decide what topics to write on?
We are very excited because this is the first book we are publishing with Magination Press. We are frequently asked by parents of young children how they should prepare their child for the first therapy session and we thought this book would be a great resource. Once we had the idea, we brainstormed and sent the manuscript back and forth until we felt we had a book that would answer the questions that parents typically have.
What is fun or unexpected about the writing process?
It's fun to write with friends and coworkers who you respect and to encourage each other's creativity. We didn't expect how great the illustrations would be and how beautifully they would bring our book to life.
What do you do when you're not writing books?
We are all clinical psychologists in private practice. We do therapy with children and families, spend time with our own families, and think about what new books we want to write. The three of us have been friends and worked together for nearly twenty years. This is our first children's book, but hopefully it will be the first of many!
What was surprising/different than you expected about getting a book published?
We were surprised by how long it takes to get a book published and how excited we would be to see it in print. We did not expect the overwhelming amount of positive feedback from patients, friends, and colleagues about how this book has really filled a need.  We are so proud to be authors, especially because we are very dedicated to helping children and families and writing books is an additional way to help.
Any advice for new authors? 
Write what you are passionate about. Listen to those around you and great ideas may come to you. Definitely pursue your writing no matter what obstacles may arise.