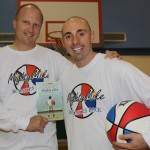 Introducing Robert Skead and Mike Simmel! We wanted you to meet these guys this month because November is National Epilepsy Awareness Month. Rob and Mike are the authors of Mighty Mike Bounces Back: A Boy's Life With Epilepsy. Read on as Rob and Mike take turns talking about their work as writers, basketball players, and official (and unofficial) spokespersons for epilepsy awareness. And, keep going! At the end, you can read chapter one of Mighty Mike Bounces Back!
What books have you written? 
Rob: In addition to Mighty Mike Bounces Back, published by Magination Press, I've written several other popular children's books, including Patriots, Redcoats & Spies and Submarines, Secrets & a Daring Rescue, in the new American Revolutionary War Adventure series published by Harper Collins; Something to Prove (my first picture book from Lerner Publishing about Joe DiMaggio and Satchell Paige); Safe at Home: A Baseball Card Mystery; and Hitting Glory: A Baseball Bat Adventure, to name a few.
What is Mighty Mike Bounces Back about?
Rob: Co-written by a real-life basketball star with epilepsy (Mighty Mike Simmel), Mighty Mike Bounces Back is an empowering story written to help kids learn to deal with adversity and to take control of their life. Mike has epilepsy and sometimes it's hard to feel like a "real" kid. He is scared of letting other people know about his disease—or even worse, being seen having a seizure! He is often worried and afraid of what other people will think. Soon Mike's father buys him a basketball, and things begin to change. Mike starts playing basketball at his school, at home—everywhere! Through his growing love and talent for basketball, Mike learns to overcome his worries and to be courageous in the face of obstacles including his epilepsy. As the author, I hope the story helps children have empathy for kids living with epilepsy and helps kids with epilepsy realize they can do great things and accomplish anything.
What's your normal writing process? How do you decide what topics to write on? 
Rob: I only write when a story oozes out of me and I can't do anything but write that story. I craft an outline and then have a goal to write one scene a day.
What is fun or unexpected about the writing process?
Mike: Being a professional basketball player with a condition like epilepsy, you really want to get your story out there. Working with Rob and Magination has given me the outlet to do so and help so many people in the process. We can help change the world with the magic of words!
What do you do when you're not writing books?
Mike: For 13 years I played on a professional entertainment basketball team, the Harlem Wizards, where I was their star dribbler. I am currently an ambassador for the Epilepsy Foundation's "Athlete vs. Epilepsy" initiative. In addition to that, I have performed at over 450 basketball camps and 800 halftime shows. In 2005 I started a non-profit, called the Bounce Out the Stigma Project, which specializes in basketball camps and clinics for special needs children in which we have currently reached programs out to 14 states. We also have a school assembly program with a unique edge targeting anti-bullying, character education, and disability awareness. We have reached hundreds of schools over the last 10 years. As a result of my work, amongst the awards received, I was honored in 2009 with the Ten Outstanding Young Americans Award (the TOYA) by the U.S. National Junior Chamber of Commerce. And in 2014, the governor of Kentucky honored me as a Kentucky colonel.
Rob: For years, I ran a basketball league for over 300 kids. I also enjoy fishing and tennis, and volunteer in my community as a baseball coach. That's all when I'm not being a husband and a father and enjoying our two amazing Portuguese Water Dogs, Lucky and Milo.
How does it feel to be a published author?
Mike: It is great! It shows people actually believe in you and your story, so you can go out and help others. When I received word that Magination wanted to publish us, I was floored! It just goes to show that if you have a dream anything is possible.
Rob: It's so much fun and a privilege to have a publisher invest their time, energy, money, and belief in your story. The best part of being an author is speaking at schools and encouraging kids to discover and develop their talents for a fulfilled life.
What's your favorite story from making this book?
Rob: One day, my friend Mighty Mike called me and asked me if I would write a story about him to help inspire kids. Honestly, I didn't want to do it. I was very busy at the time and was used to developing my own ideas. So I gave Mighty Mike a homework assignment, with the hopes he wouldn't do it and I'd be off the hook. I asked him to think about moments in his life that would make for an interesting kid's story, and to write them down and meet me in a local coffee shop in a week. Definitely. And I thought the coolest thing beyond the story of Mighty Mike is that our book has several things which any person can use: coping skills, a first aid section, and seizure terms. That makes it unlike any book on the subject of epilepsy on the market. Mike had thought it all out, and written everything down, and when I saw that his heart was in the right place and that he really did want to help kids, I agreed to work with him on the story.
Mike: The story was first envisioned as a picture book, so the fun began when Magination Press editors decided it should be a chapter book. The editor provided some great ideas and guidance to make the story longer, which we followed, in addition to providing our own ideas, based on Mighty Mike's real-life experiences as a child living and growing up with epilepsy. It was a terrific collaboration. Magination Press was the best publisher to do this story. That's a fact. I knew when searching for a publisher that if I was going to go for a book about special needs I had to go with Magination. Plus, they had no books on epilepsy. This is because no one talks about it. This should be a home run for the community and help so many.
Mighty Mike Bounces Back
Prologue
Mighty Mike Simmel took the pass from his teammate and raced the ball to the hoop. Within seconds his defender guarded him tightly. Mike faked right, spun as he dribbled between his legs, and left his defender in his wake. Suddenly, another guard covered him like a glove.
Mike had always dreamed about a moment like this. He glanced up at the scoreboard. It was the fourth quarter of the game. His team was down by one point.
The clock counted down…10, 9, 8…
Mike froze for a moment. He knew his dad was watching him from the stands. And at that moment, Mike felt as if he and his father shared one mind. They both knew that it had been a long and hard journey for Mike to get to where he was right now—a star on his town's travel basketball team. Along the way, the pint-sized sharpshooter had earned a new nickname—Mighty Mike—a name that reflected his courage and determination more than his physical strength.
Mike also knew that his doctor was in the stands watching. Mike's journey had gifted him with so many people who cared for and helped him. But best of all was the fact that he knew his parents, teammates, coach, and doctor were all thinking the same thing. You've come a long way, dude, he thought to himself.
Mike waited as his teammate picked his defender. He dribbled by him and dished the ball to another teammate who cut to the hoop. Seconds later, the ball was flicked back into Mike's hands. He stopped and froze.
"Three! Two!" The crowd shouted…
Chapter 1: Can't Hop
Eight Years Earlier…
Mike Simmel watched his friends as they rode their bikes up and down the block. The scrawny boy with short pants brushed the hair out of his face. Each time the boys drove by, tears welled up in his dark brown eyes. Soon the boys had jumped off their bikes and started a game of tag. They ran like crazed monkeys away from Vinnie, another six-year-old boy with a nest full of unkempt red hair. Vinnie wore jeans with a hole in the knee and a New York Yankees t-shirt. Mike studied one of the boys, who was hopping backwards trying to keep Vinnie from tagging him. From where he stood across the street, Mike tried to copy the hop, but he fell to the ground.
"I can't do anything," called Mike to his mom. He picked himself up, bent his knees, and launched himself forward this time. Again, he tumbled hard to the ground. "See. I can't do it."
Across the street, Vinnie saw Mike fall on the grass and laughed. His laughter rippled through the air and went straight to Mike's heart. Vinnie had been one of Mike's friends, but he never seemed to ask to play with Mike anymore.
"Mike can't ride a bike," said Vinnie to one of the other boys, just loudly enough that Mike could hear him.
Mike peered across the street and saw the boys staring at him. He turned his head quickly so they couldn't see a tear run down his cheek. He jogged inside.
Mike's mom sighed. She had a thin nose and short black hair with blonde highlights. She threw a look to the boys across the street, letting them know she wasn't happy, and then followed Mike into their grey-paneled house. She found Mike on the living room couch with his head stuck under a pillow. He looked like a short ostrich with his head in the ground and his hiney in the air. She sat down beside him. "I know you're frustrated," she said. "But you're developing at a different pace because of your epilepsy. You'll be able to ride a bike and do lots of other things someday."
Mike hated that word: epilepsy.
Epilepsy is a physical disability and the result of a seizure disorder. A seizure is when someone's brain starts doing abnormal things that can cause the person to lose consciousness. Some people who have seizures stare into space, some fall to the ground like rag dolls, and some fall down and shake violently. When he was young, Mike often had the kind of seizure that made him fall to the ground—and he couldn't control it. Seizures can happen any time, and in most cases, without warning. Seizures don't happen to many people, though, and seizures and epilepsy aren't contagious like a cold or flu. But for people who have epilepsy, they are a part of life.
Mike had his first seizure at age two. It happened while he was eating an English muffin in the kitchen. His body went limp like cooked spaghetti, he fell off a stool, and he hit the floor hard. His mom did the right thing and called 911 immediately. When the emergency medical technicians arrived at his house and looked in his eyes, they knew Mike had experienced a seizure.
The next day, Mike's parents took him to the doctor, where they all learned about epilepsy. That same day, Mike had more seizures. They happened every day. The seizures scared Mike. They would come at any time, whether he was at home or in public places, like a store. And he experienced them several times a day. Each time, the seizure would cause him to suddenly black out and crumple to the ground.
Mike's mom gently moved the pillow that Mike was hiding under and stroked his black hair. "It's all right, honey." Mike enjoyed his mom's gentle caress. He remembered how the doctor told them that seizures are like a lightning bolt going off in his brain. He was tired of feeling afraid of when the next one might happen. Why'd this have to happen to me? he thought.