Meet the delightful and talented Claudine Crangle, author and illustrator of Woolfred Cannot Eat Dandelions: A Tale of Being True to Your Tummy, and read on to learn a delicous way to actually eat dandelions!
What's your normal writing process? How do you decide what topics to write on?
I've written about my personal experience. When I wrote my first book, and spoke at celiac events, I would talk about how alienating it was growing up in the 1970s when nobody else seemed to have a food intolerance. I was so moved when younger children would want to meet me and tell me that they had celiac disease too. I would love our little chats about what they missed most. Woolfred was the result of wanting to help kids understand their feelings around this. Now I'm working on a story that has nothing to do with food or illness—and I'm pretty excited to be leaving a place I'm so familiar with. I'll always be happy to speak to people about food intolerance, but it's time to travel beyond my comfort zone.
What is fun or unexpected about the writing process?
I think you work out how you really feel about something when you need to sum it up in so few words. Explaining how it felt when I was growing up and finding an authentic voice meant I had to dig deep. Writing this book helped me to clarify my own feelings.
I'm most attracted to kid's books with an element of humor, and I really enjoyed thinking about goofy ways to address unpleasant outcomes of eating the wrong foods. For adults and kids alike, these symptoms can be associated with shame. Humor feels like the best way for me to respect these feelings and tell the truth without being crass or offensive.
I'm a very visual person—and I see the image that would accompany the text as I write. I love the play between these two elements that is unique to picture books.
Speaking of your visual side, tell us about the illustrations in Woolfred.
This is my first illustrated book. In school, art was always my favorite subject, but I never believed I would make a living at it. I got a "day job" and took art classes in the evenings. In 2001 I started a simple greeting card line that took off, giving me the confidence to expand into art prints—and finally I sent off a manuscript with a few sketches.
While I was a super chatty kid (and still am), I was more moved by pictures than words in children's books. I always liked to draw and make things. I looked at books for images to copy and marveled at how the simplest images were often the most difficult to reproduce. I also loved books with lots of detailed images that I could get lost in. Probably the only time I was quiet!
How were these illustrations created? What materials did you use?
I used many techniques in this book including linocuts for the dandelions and distant/smaller versions of the sheep. I made the landscapes by rolling inks onto frayed linen, burlap, and leather, which were then pressed onto paper. The characters are drawn in pen and ink and then colored with inks and waxy china markers. A few backgrounds were screen printed to make blocks of flat color or fine detailed patterns.
Essentially the book is made out a collage of all of the aforementioned elements cut and assembled together. This was useful as I could position and reposition characters and dandelions on the background until I got them where I wanted them. Today, most artists would do much or all of this on the computer. As I don't use the computer in my work at all, I took the final artwork to a professional art scanner to create digital files for the designer to work with.
Tell us about your process.
With so many techniques being used, there needed to be an element that made it all cohesive. Imposed limitations are a big part of my process. With Woolfred I decided early on that the color palette would be limited to only a few colors.
Being low-tech, my process started with blocking these colors in paper dummy books to look at the flow. I'd glue down large chunks of color using construction paper and then photocopy sketches and block prints and cut and paste them into the books along with the text to ensure I was leaving enough space and keeping the limited palette from getting too repetitive.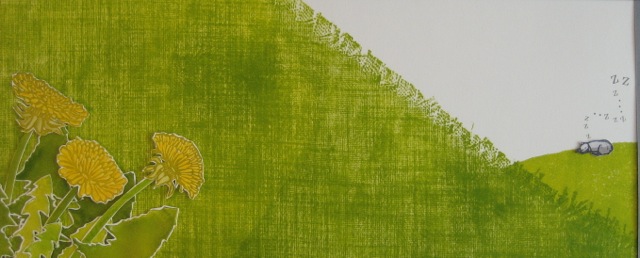 I recognize that this is an archaic way of working given what technology can do—but it's how my brain likes to create. It's the same process I would have used making books as a kid!
What was fun or surprising about the illustration process?
Not having illustrated a book before I wasn't prepared for how hard it would be for me to keep a character looking consistent from every angle and mood. Woolfred began as a very different looking sheep, so it was interesting to see him naturally evolve into the final character.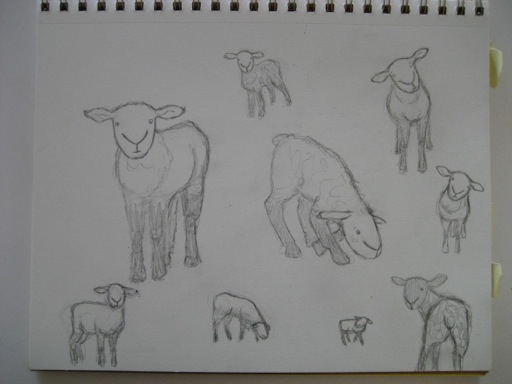 So, what do you do when you're not writing books?
I work for a children's hospital as a corporate fundraiser. I also volunteer for an arts organization and typically have two or three art projects on the go at any time. I cannot imagine life without lots of creative outlets!
How does it feel to be a published author?
When I was little I remember afternoons alone making little books and writing plays. It's still hard to believe I've had a picture book published! Now that I know it's really possible, I'm hoping there will be more.
It's such a thrill to walk into a bookstore and see your name on the spine of a book on the shelf. Even better is witnessing a child experiencing your book first hand.
Any advice for new authors?
I'm a new author, so not sure what sage advice I could give—except that every author was once an aspiring author. It's hard to get past our own sense of inadequacy—but putting yourself out there is so worth it!
What was surprising or different than you expected about getting a book published?
I had no idea how long the process was. It's a very long incubation. In my case that was good—I had a lot to learn!
Do you have any fun facts to share that readers might not know?
I spent a long time immersed in the world of dandelions in preparation for this book. Dandelions are actually quite tasty—their leaves can be served raw as salad or fried up with oil and garlic. They are very bitter and take a lot of chewing.