Michael A. Tompkins, PhD, is a licensed psychologist, a founding partner of the San Francisco Bay Area Center for Cognitive Therapy; Assistant Clinical Professor at the University of California, Berkeley; and a Founding Fellow of the Academy of Cognitive Therapy. He specializes in cognitive–behavior therapy for anxiety and mood disorders in adults, adolescents, and children.
Michael is the author, along with Katherine Martinez, PsyD of one of Magination Press' widely popular teen books, My Anxious Mind. What a delight hearing about Michael's writing process, his passion for helping kids, his warm and personable (and funny!) side, and his complete delight in being considered a pop-culture cipher much to the chagrin of his teenage daughters.
With that, Michael Tompkins!
What books have you written? I've authored or co-authored seven books, both trade books and books for professionals. My Anxious Mind, written with Dr. Katherine Martinez, is my favorite. I love writing books for kids and their parents more than for professionals, although training professionals helps kids too, I love the direct connection I feel when writing for kids.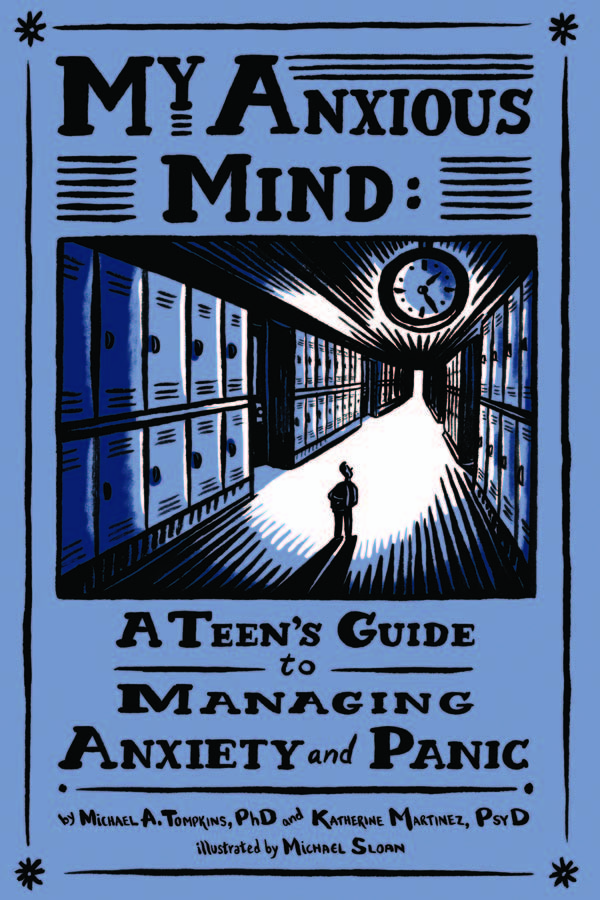 What's your normal writing process? How do you decide what topics to write on? I have more ideas than I have time to write them. The books I write are ones that I think will have the greatest influence or help kids the most. Sometimes that's because the topic has wide appeal, such as My Anxious Mind. Anxiety disorders are the single largest mental health issue for kids. For example, about 20% of adolescents have social phobia. Furthermore, in my opinion, other authors have either written over the head of teens or write as if they are kids. It's tough to find that sweet spot – language that respects the teen while presenting information in an engaging and fun way. I also consider whether the book can have a large and lasting impact on reaching kids and helping to turn their lives around. I primarily see my books as disseminating to a broad audience the value of evidence-based treatments. We have psychological treatments that research tells us work. I see my job as getting the word out to kids and there parents that we have treatments that can truly help. My motto is, "No kid need suffer, no kid need fail." My normal writing process is to wish that I had more time to write, but the truth is that I have a busy clinical practice and I do a fair amount of training in and out of the U.S., so this means that I primarily write on the weekends. I get up early on Saturday and Sunday mornings, grab a cup of coffee at my favorite café and head to my office. My office is a short walk from my home and I find it much easier to write there than at home, even when no one is home. I have a writing habit now and my office is quiet and comforting and set up to encourage writing and to discourage procrastination.
What is fun or unexpected about the writing process? The most fun is to discover a new and engaging way to explain a complex topic. I think this is the sign of a good teacher – some one who can take complex topics and spin them into a form that kids get. I love it when I discover just the right metaphor or way of explaining something. I love the process of writing, even the last ten percent, which is always the toughest part.
What do you do when you're not writing books? I garden some. My wife and I love to cook so we cook on the weekends together. I read and wish I had more time to do that. I seldom watch television. I don't see the point, which my teenaged daughters and nieces cannot fathom. This disinterest in screens has caused them to view me with suspicion. I now have the reputation, much deserved I fear, of being a pop culture cipher. I do try to keep up on things by thumbing through People magazine at the grocery check out but this does not seem to satisfy the teenaged girls in my life.
 How does it feel to be a published author? Wow. I don't know how to answer that question. Magination Press is a wonderful publisher. The staff is encouraging and patient, oh so patient. To be a published author is wonderful but only because it's a way to help more kids and their parents than I can help as a psychologist in my office. This might sound corny but it's the reason I went into the field. That, and that I was too slow and too short to play for the Knicks.
What was surprising/different than you expected about getting a book published? What surprised me, although in hindsight I don't know why it would, is that I have such trouble promoting my own books. I have stacks of my books in my office and I never suggest to a client he or she read it. When a parent asks about a good book on the topic of anxiety, I tend to mumble and offer several suggestions of books I like, and hey, you might check out mine. How dumb is that? I am certain my editor shudders to hear this but, hey, I write them, you sell them.
Do you have any fun facts to share that readers might not know? I can stuff 15 marshmallows in my mouth (kids, don't try this at home) at one time and hold my breath for one minute and 15 seconds. I broke both these records at the same time.
What's your favorite book? Oh, my, now this is a tough one. As an adult, my interests are all over the literary map. I love anything Oliver Sacks wrote. I was so sad at his passing. These days, my tastes lean more to history and non-fiction, particularly history. I hated history as a kid but now that I am an old man, it seems more relevant to me. I just finished, Quiet: The Power of Introverts in a World that Can't Stop Talking. I'm an introvert and found this book reassuring and liberating. I now make no apologies regarding my introversion. In fact, my introversion just gives me more time to write.
What children's book was your favorite when you were growing up? Will you forgive me if I confess that as a young child, I loved "Everyone Poops." It is a topic (poop, in all it's variations and permutations) that is sufficiently self-evident to appeal to a child and a book just a little left of odd. Not only that, there was some science in it. I loved the scary fun of "Jumanji" and in middle school; I discovered Jack London and read, and still read, his short stories and novels.
Any advice for new authors? My advice to new authors is the advice I give new parents – enjoy the process and don't get too hung up on the outcome. Nurturing a book along takes countless hours, and has moments of frustration and worry, as well as joy and exhilaration. Nurturing a kid along is not much different, except a kid can hug you at the end of the day. While I love writing books it doesn't compare to the hugs and smiles my kids give me at the end of a long day