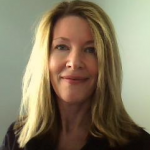 Susan D. Sweet, PhD, is a clinical child psychologist and mother of two. While working in various hospitals, schools, and community-based centers, Susan is singularly focused on  children's mental health and well-being. Susan loves to cook (and eat!) and hopes to encourage children to view food as one of life's greatest adventures. Princess Penelopea Hates Peas, co-authored with Brenda S. Miles, PhD,  is her first children's book.
I recently had the chance to catch up with Susan and ask her a few questions.
What books have you written? My first book with Magination Press is scheduled for release in February 2016. It's called Princess Penelopea Hates Peas: A Tale of Picky Eating and Avoiding Catastropeas (co-authored by Brenda S. Miles, PhD, and illustrated by Valeria Docampo). It's super exciting to see one of my stories finally being brought to life! A second book is currently underway, so stay tuned….
What do you do when you're not writing books? When I'm not writing books I work full-time as a clinical child psychologist. I am in the mental health lead role for a school board of about 82,000 students in Ontario, Canada, and I'm passionate about children's mental health and well-being. My family is also extremely important to me and I spend as much time with my husband, daughter, and son as I can. If there is any time left after that, I love to read (of course!), cook, and walk outside. It's all pretty basic, but I've learned to appreciate things that I can build in every day as opposed to counting down to the next big "event."
What was surprising/different than you expected about getting a book published? Without a doubt, the biggest surprise was the pace! When I was little I remember my mother saying one day she hoped I'd develop more patience, and she's certainly getting her wish! The process of moving from initial submission to contract to finally seeing the story come to life on the page can literally take years. Every step is important, and all of them take time to do well. The publishing industry has taught me a lot about letting things unfold the way they need to. It's a long journey from beginning to end, but worth every minute. Okay, Mom. You can smile now.
Do you have any fun facts to share that readers might not know? I grew up in Prince Edward Island, Canada. Lucy Maud Montgomery and Anne of Green Gables are such a part of the culture there that, in a way, I feel like I grew up in a story book! I have never been anywhere else where a story has made such a huge impact. After all, how many literary characters end up on a license plate? Prince Edward Island is a living example of the power of a good book and a timeless character with whom people can connect.
What children's book was your favorite or made the most of an impact on you when you were growing up? The book that stands out most in my memory is Bridge to Terabithia by Katherine Paterson. I first read it in elementary school and I think it made such an impact because I'd never before experienced a story where (spoiler alert!) a child and central character dies. I remember how unexpected it was—I was accustomed to everything being neatly wrapped up and tied with a bow at the end of books. A couple of years ago I reread the story before sharing it with my own children, but I couldn't recapture the magnitude of that initial impact. It was all about a time and place I'm no longer in. But when I was small it felt very big.
Any advice for new authors? I still think of myself as a new author with plenty left to learn! But I'd be happy to offer some suggestions to aspiring writers. First and foremost, if you want to be a writer, you have to write. Practice is key to improving your craft, so try to build writing in on a daily basis. Write first and foremost for yourself. Write what you know and what you are passionate about. Write because writing makes you happy. Write because you can't not write! Then read what you've written aloud. Your ears will catch things that your eyes may miss. The publishing industry can be a difficult one and rejection is an inevitable part of the process, so be prepared and don't take it personally or let it get you down. When I send out a submission, I find it helpful to be already caught up in my next project. That way if the submission moves ahead for publication, great! But if it doesn't, I'm excited and hopeful about something else. The fit between your work and a publisher is also very important, so doing your homework can help increase your chance of success. Good luck and don't give up!
Thanks, Susan! –ke