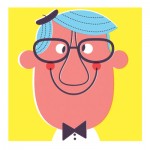 Steve Mack grew up a prairie boy on Canada's Great Plains and has drawn for as long as he can remember. His first lessons in art were taught to him by watching his grandfather do paint-by-numbers at the summer cottage. He has worked for greeting card companies and has illustrated several books. In fact,  Steve illustrated our super fun and fantastic books, The Grouchies and Stickley Sticks To It. He is currently working on Stickley's next adventure, Stickley Makes A Mistake, publishing in August 2016.
We wanted to know more about Steve and his work, so just like that…we asked! Here's what he had to say:
Tell us a little about your background. What led you to become an illustrator? I am trained as a graphic designer but as I was about to finish design school a book by Bob Staake caught my eye in the library. It was called The Complete Book of Humorous Art. This book completely changed my direction. I'd always loved to draw most of all and his book showed that one could make a good living drawing fun images. Like Bermuda short–wearing frogs! I was sold and I never looked back.
How were these illustrations created? What materials did you use? I use mostly digital tools. I sketch very roughly on paper but usually head to Adobe Illustrator to hammer out design ideas for shapes and scale of characters.
Tell us about your process. I usually start new book projects by reading and re-reading the manuscript. As I read it I generally start to visualize the characters and styling I want to use in the book. For this book I wanted a heavy textured feel to the water and characters. I provided the two images below to the publisher to let them know this was a look and feel I would like to use.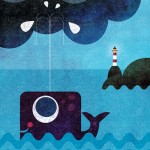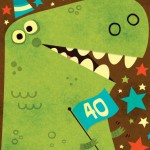 Once these were approved I worked on some simple line drawing sketches for Stickley.
Stickley  would later develop to look like the below after discussions with the publisher, art director, and writer.
A Bermuda short–wearing cool frog! His bow tie was the only hold-over from the earliest versions. Once we had the characters nailed down I sketched out full pages in Adobe Illustrator. These look very tight but are very easy to make changes to and show a clear indication of what the pages will look like before texture and color.
What was fun or surprising about the illustration process? Every book is a new fun challenge for me. I set personal goals before I do a new project. For this book I wanted to bring a heavy texture that you could almost feel by looking at the pages.  I also wanted to use greens and blues and teals to make it feel very watery. I hope it's a fun book just to look at. That's always my end goal.
What was your favorite book as a child? Do you have any favorite illustrators? I have a lot of books, illustrators, and authors that resonated with me from childhood. If I had to pick one—P.D. Eastman as an author and illustrator is someone who I've always felt was a master at the craft. Books from him like Go Dog Go, Snow!, and Sam and The Firefly are treasured memories from my childhood. His art was just so fun to look at!
Thanks, Steve! –ke