Claire A. B. Freeland, PhD, and Jacqueline B. Toner, PhD, are clinical psychologists in Baltimore, Maryland, with over thirty years each in private practice working with children and parents. We delighted when they agreed to write books for our hugely popular What to Do series. They also just released a teen self-help book about depression. With four books under their belt, we were eager to hear about motivates and inspires them and why they do all the wonderful things they do!
With that, I'd like to introduce Dr. Claire Freeland and Dr. Jacqueline Toner.
What books have you written?  CF: With Jacqueline Toner, I have written three published books that are part of the What To Do series—What To Do When It's Not Fair: A Kid's Guide to Handling Envy and Jealousy (September 2013), What To Do When Mistakes Make You Quake: A Kid's Guide to Accepting Imperfection (August 2015), and What to Do When You Feel Too Shy: A Kid's Guide to Overcoming Social Anxiety (October 2016). We have also written Depression: A Teen's Guide to Thrive and Survive (October 2016).
What's your normal writing process? How do you decide what topics to write on? JT: Our first books grew directly out of the needs we perceived in our clinical practices. For example, What to Do When Mistakes Make you Quake was prompted by my experiences with dyslexic students who were developing good academic skills but struggled with inhibition when faced with writing tasks because of the fear of making errors. Then there were the very accomplished kids who would become terribly upset about a lower than expected grade, sports standing, or other "performance." And the children who worried a teacher would be disappointed in them if they made the typical errors that are a normal part of learning.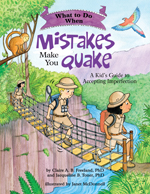 Once we decide on a topic, we read relevant research and professional works on the subject. Then the fun begins! We typically brainstorm ideas for examples and exercises designed to teach readers concepts and provide guided practice. For younger readers we play with what type of metaphor might best fit with this content. For teens we try to think of examples and exercises which they will find relevant. We develop the ideas and send it off to other professionals in the field to review. They provide a terrific sounding board and often share relevant related work.  Then it's time to rewrite.
What is fun or unexpected about the writing process? JT: For me the process of writing for young readers often includes a great deal of serendipity. While I may embark on a project with certain goals in mind, the execution is often informed by unrelated experiences, conversations, or the interests of children and teens I have worked with. For instance, there is the example we use of an explorer coming out of a cave intended to elucidate how habituating to the physical signs of anxiety is like one's eyes adjusting to bright light after being in the dark. This came from my then college-aged daughter talking about the use of a cave metaphor in Plato's Republic which coincided with my work with an anxious nine year old who liked exploring the woods. I often write short personalized books for the kids I work with and the idea for the cave example came to me as I was working on one for him.
CF: Writing can be lonely hard work, but writing with a partner is truly joyful. I firmly believe that the whole is greater than the parts! Part of the fun is bouncing ideas off of one another. Through the years, I have developed a number of methods to help my patients that are applicable to the books and I sometimes try out book ideas on my patients first. Since I employ cognitive behavioral principles in my practice, I have lots of opportunities to take these concepts and work to make them understandable to a young audience. While in my practice I have helped many children, it is exciting to have a wider reach through writing books. All children can benefit from learning to identify and challenge their thoughts.
What do you do when you're not writing books?  JT: I am a practicing clinical psychologist working with children, teens, and their families. I do individual and family therapy as well as evaluate children and adolescents for learning differences and attention challenges. For the past several years I have also served as a consultant and mediator for a community engagement project to explore ethical issues in medical decision-making. Although my work is important to me, family and friends are the center of my life. I have three grown daughters, two sons-in-law, and am married to my high school sweetheart. When I'm not working I enjoy being active (swimming, biking, kayaking, cross country skiing, hiking, yoga, Pilates), travel, ballroom dancing, knitting and sewing, and reading.  Oil painting is a passion and I often focus on painting the expressive faces of young children. Oh….and I don't tolerate boredom well!
What was surprising or different than you expected about getting a book published? JT: Claire and I first started writing a book for children decades ago, it has taken many years of rewriting, reformulating, submitting, scratching our heads over encouraging rejections, redeveloping ideas, and trying again and again in order to be published. Then we approached Magination Press and it seemed a perfect match. The development and writing of books with their guidance has been a great joy. This long journey brings to mind something one of my painting teachers once said when asked how long it had taken her to complete a plein air work.  She replied, "It took me forty years and forty five minutes."
CF: I love the editing process and working and re-working the material. I have also enjoyed the process of working with the illustrators to see the concepts take form visually. The illustrations are vital to making the concepts clear and accessible to our audience. It's amazing how subtle differences in facial expression affect the interpretation of the material.
Do you have any fun facts to share that readers might not know?  JT: Some of my very best "writing" happens in the swimming pool. I swim for an hour two or three times a week and staring at a black stripe on the bottom of a blue pool provides little distraction from thinking. It's a great place to work through book challenges and come up with creative ideas.  My swimming coach and chums are also some of my best cheerleaders. One of them, David Thompson, also illustrated our first book.
What's your favorite book? CF: I can't say I have a favorite book, but I have a few favorite authors, an eclectic group: Ann Tyler, Toni Morrison, John Steinbeck, Kurt Vonnegut, Ken Follett, John Irving, and Elie Wiesel. Favorite books from childhood were A Wrinkle in Time, anything by Dr. Seuss, Robert Louis Stevenson poetry, and The Hobbit. I loved reading Goodnight Moon, Snowy Day, and The Little Mouse, the Red Ripe Strawberry, and the Big Hungry Bear to my children when they were young.
Thanks Claire and Jacquie! —ke