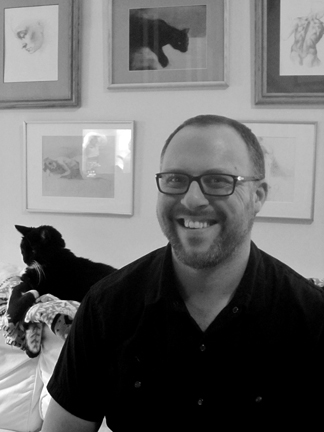 Bryan Langdo is the illustrator of over 30 books for children and the author of two. His picture book Tornado Slim & the Magic Cowboy Hat (Two Lions, 2012) won a 2013 Spur Award for Storytelling from Western Writers of America.
I've worked with Bryan on 5 books — his funny details and quiet little (inside) jokes get me every time. Love it! In fact, my dog Charlie was the model for Tanner in There's a Cat in Our Class! A Tale About Getting Along (August 2016). Bryan has also illustrated—King Calm: Mindful Gorilla in the City (October 2016), Do You Sing Twinkle? A Story About Remarriage and New Family (August 2009), Sometimes I'm Scared (May 2009), Was It the Chocolate Pudding? A Story for Little Kids About Divorce (September 2005).
We are delighted to have him on board! It was fun learning about Bryan's process and how he gets things done. With that, I am happy to introduce Bryan Langdo!
Tell us a little about your background. What led you to become an illustrator? Drawing has always been my favorite thing to do. When I was in middle school, I started taking art lessons with children's author/illustrator Robert J. Blake. Those lessons took place in his studio, so I was able to see first-hand the process of creating a book. After college (and a brief period when I thought I'd be a portrait painter), I decided to dive into children's illustration myself. I created lots of sample illustrations, wrote some manuscripts, and started sending out to publishers.
How were these illustrations created? What materials did you use? For final art, I work with pen and watercolors. Sketching is always done with a pencil, which can be erased.
Tell us about your process. The first step is to simply think about the manuscript for a while. If needed, I'll figure out page breaks. I'll also start making rough sketches of characters and settings. Basically I'm just trying to wrap my brain around the story at this stage. As I move onto sketching the pages, I make sure to vary layout and text placement. I scan everything and lay it out in Photoshop with the text. Then I send it to the editor and art director. There's usually a round of revisions. Once everyone is happy, I print the sketches out at full size and transfer them onto watercolor paper. After tracing the lines with pen, I break out the watercolors.
 What was fun or surprising about the illustration process? It's always fun when I can slip in a funny detail, like the bell hanging on the door of the classroom in There's a Cat in Our Class. When my dog was just a puppy, we hung a bell on our back door so he could ring it when he needed to go out. It worked!
What was your favorite book as a child? Do you have any favorite illustrators? My favorite book from childhood is The Sailor Dog, by Margaret Wise Brown and illustrated by Garth Williams. It's slightly fire-damaged, but I still have it. I just loved the sense of adventure, and I loved Scuppers' cabin, with all of his gear stowed in different places.
Thanks Bryan! —ke