Wow, it's hard to believe the summer's almost over! Only one more week of pool time! With many kids going back to school this week and next, we thought we'd round up some books that might be helpful for the back-to-school transition…and beyond. So, pull out your binders, sharpen your pencils, and check out these back-to-school resources!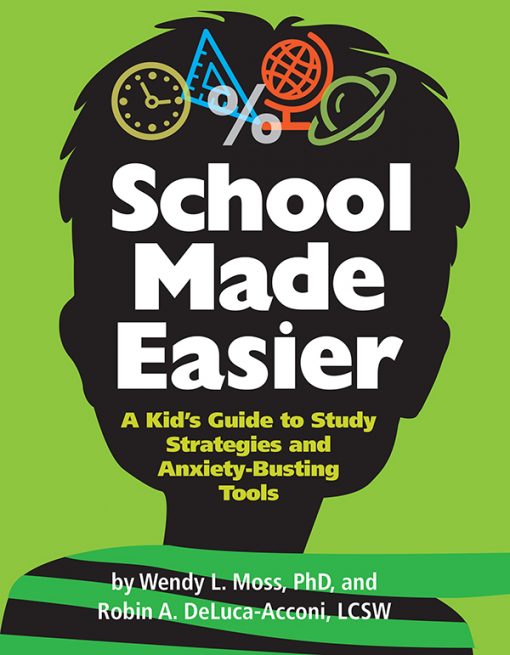 Do you ever get nervous before a big test? Do you get butterflies in your stomach before giving a presentation? Do you ever lose track of papers? Do you cram to finish long-term assignments at the last minute?
If you answered "yes" to any of these questions, this book is for you!
School Made Easier will show you how to:
Understand your academic stress
Use "mind games" to feel less stressed and more confident
Problem-solve to cope with stressful situations
Organize your papers and files
Use executive functioning skills to make homework and studying easier
Manage your time wisely
Study more effectively
Stay calm and cool on test day
And much more!
Take a look inside, and start reducing your anxiety and increasing your confidence in school.
Believe it or not, school can be less stressful — and even fun!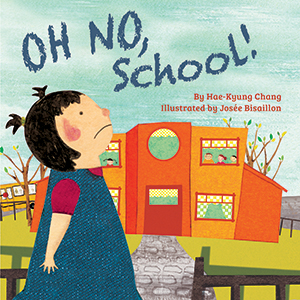 Oh no! Holly does not want to go to school one morning. Her friends are taking her toys and her teacher speaks too loudly. Everything is just too new and too different for Holly!
Through gentle reassurances and coaching, her mother encourages her to think differently about the things that are bothering her at school. Holly begins to feel better about her new routines, new classmates, and new expectations, and soon she is off to school!
A "Note to Parents" by school psychologist Elizabeth McCallum, PhD, offers tips and strategies to reduce your child's discomfort with school and to help your child transition to school more easily.
Sam and Gram and the First Day of School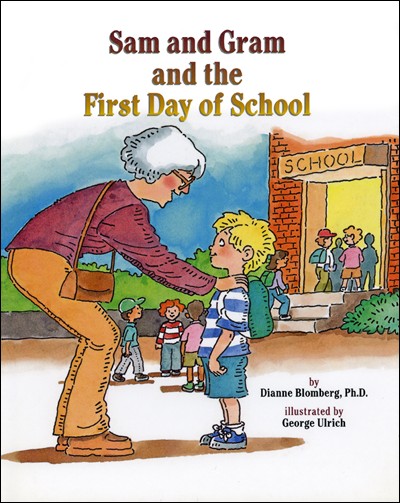 Gram helps Sam get ready for the big day!
Fast-paced and fun, with vivid, cheery illustrations, this book takes the child reader hour-by-hour through a typical first day at school—so a child will know just what to expect on their very own big day—and also look forward to all the fun things that happen at school.
Written by a national expert in communications and human relations, it also has two special sections: "Things to Do," a list of practical, simple things you can do to help a child prepare for school, and "Things to Talk About," a list of questions to get the child thinking and talking about his or her feelings.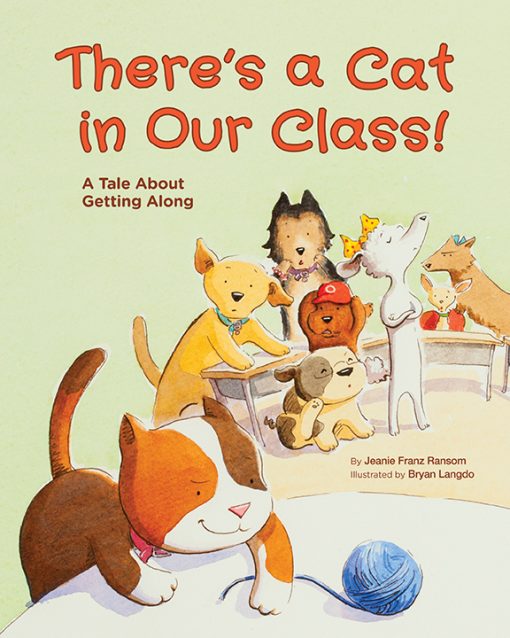 Max, Rusty, Ginger, and Tanner assume without question that their new classmate is just like them…a DOG.
Guess what? Samantha is NOT a dog, which leads to whole heap of questions. But in little time, all the tails in Miss Biscuit's classroom start wagging, and Samantha is celebrated for the CAT she is, just in time for another new student!
There's a Cat in Our Class! is a kid-friendly exploration of diversity, teaching kids the value of not only accepting but embracing the differences of those around us.
Includes a "Note to Readers" written by Gayle E. Pitman, PhD, that discusses how parents, teachers, and other adults can talk with children about diversity in a way that's meaningful and effective.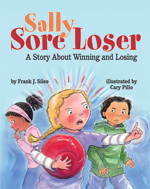 Sally loves to be first at everything! She is first in line at school. She is first out the door at recess. She is first at dinner finishing her mac 'n' cheese! Unfortunately, Sally dislikes losing and this can lead to hot tempers and hurt feelings. She even gets the nickname "Sally Sore Loser" from her classmates at school.
With the help of her teacher and her mom, Sally learns the rules for being a good winner and a good loser. She learns to say to herself, "I've won if I had fun!"
A "Note to Parents" is included, with practical tips for teaching children to be good winners and good losers.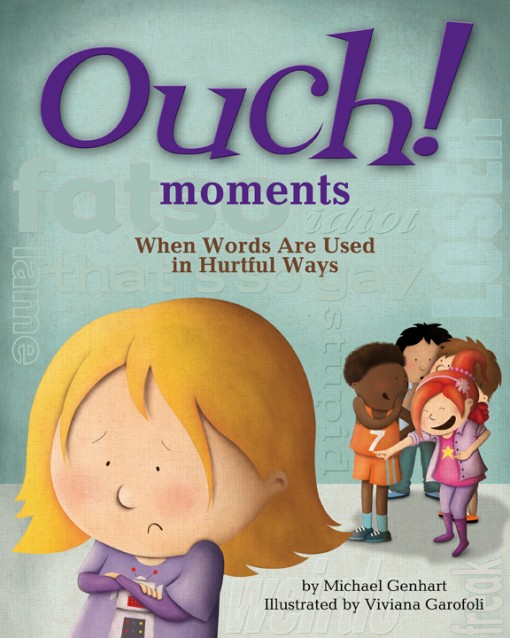 When a bee stings, Ouch! That hurts!
When your finger gets caught in a closing door, that hurts a lot.
Hearing a mean or hurtful word hurts a lot, too. When other kids say something mean or hurtful, it is hard to know what to do.
Ouch Moments: When Words Are Used in Hurtful Ways explains these "ouch moments" in kid-friendly terms, offers practical strategies for what kids can do to help, and empowers kids to stand up to mean and hurtful language.
A "Note to Parents and Caregivers" by Kevin L. Nadal, PhD, provides more information about microaggressions, and strategies for talking to children about hurtful language, discrimination, and bias.
Don't Squeal Unless It's a Big Deal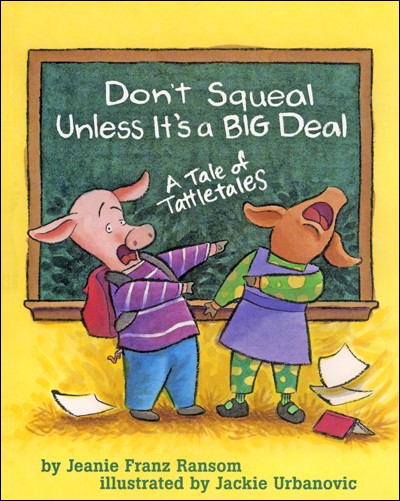 Although most kids' problems are kid-sized ones that they can work out themselves, tattling is a fact of life for young children. Their ability to solve problems on their own is just developing, and they often feel they can't manage a situation without help from an adult. As every teacher and parent knows, kids also tattle on their classmates and siblings because they want to look like the "good child," or be appreciated as helpful, or even just get some attention. And of course, kids sometimes tattle as a means of getting back at another child, especially a bigger brother or sister.
Don't Squeal Unless It's a Big Deal helps kids learn when telling is appropriate and when it is merely squealing. With warmth and humor, this story for young grade-schoolers offers easy guidelines so that kids know when to talk to each other, and when to call in the grown-ups.
A "Note to Teachers and Parents" is also included.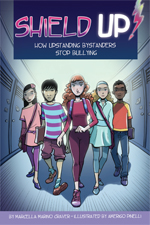 CJ, Eva, Zoe, Jax, and Ryan are all thrilled to be working on the school play…until CJ turns on Eva! CJ's diva-fied behavior makes Eva's life miserable, and her friends uncomfortable.
With the help of their school counselor, CJ's friends discover that they have the power to stand up to CJ's bullying. Together they learn how to be upstanding bystanders—and transform their school environment to a place where kind actions take center stage.
Shield Up! also includes a "Note to Readers" with even more information about bullying, and practical strategies for standing up to bullying behavior and practicing kindness.
Are you ready to Shield Up?
Blue Cheese Breath and Stinky Feet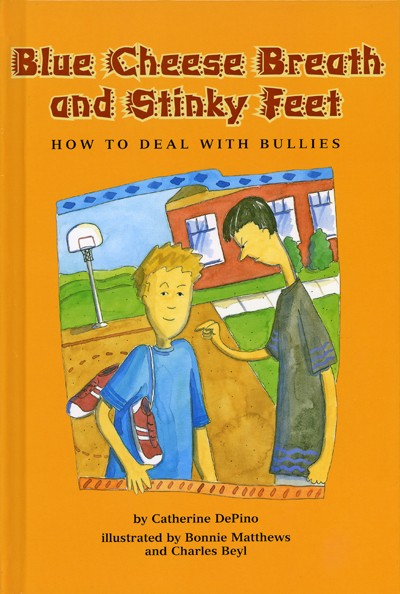 "Gus nudged his friend. 'Want to meet someone with blue cheese breath and stinky feet? Hey, Blue Cheese Breath, give me your homework so I can copy it.' I looked into Gus's mean green eyes…"
Steve has to do something about Gus. But what? He doesn't know how to make Gus leave him alone. He's afraid to ask for help. And he's afraid things will get even worse if he tells. When his parents find out anyway, Steve is surprised to feel relieved. And when they help him come up with a plan to send Gus on his way, he knows he can do it. The next time Gus tries to bully "Blue Cheese Breath and Stinky Feet," he is in for a big surprise!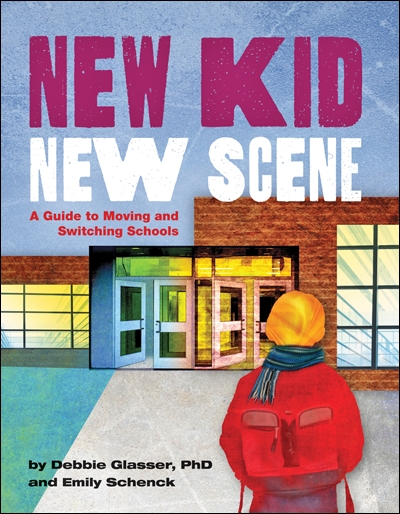 Calling all new kids! Are you ready for your starring role? Or do you have stage fright? Maybe you feel like an extra in a movie featuring some other kids and their fabulous lives?
New Kid, New Scene was written just for you! You'll learn ways to get adjusted and ease into your new school and surroundings.
In this book, you'll learn:
How to meet new friends
How to keep old friendships
How to survive the first day in a new school
How to fit in without barging in
How to put your best foot forward in a new place
How to enjoy your own company while waiting for your social life to happen
…and lots more!
Every chapter is packed with stories from other kids like you, useful advice for when you are worried or upset, and quizzes to help you learn more about who you are. With a little help, you can be comfortable as the star in your new scene and not just an extra!