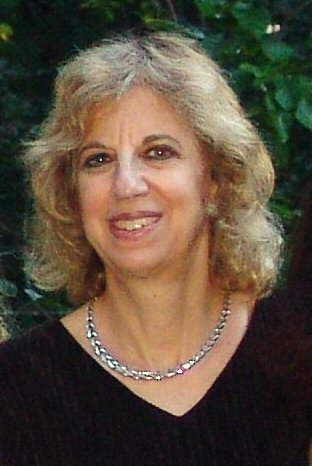 Judith M. Stern, MA, is a teacher and private educational consultant in Rockville, Maryland, specializing in work with children who have learning and attention problems. She is an experienced learning disabilities teacher, reading specialist and classroom teacher. She speaks nationally on subjects such as attention deficit disorder, learning problems and children's study/organizational skills.
Judith is the co-author of three Magination Press books, Putting on the Brakes: Understanding and Taking Control of Your ADD or ADHD, Many Ways to Learn: A Kid's Guide to LD, Putting on the Brakes Activity Book for Kids with ADD or ADHD and the author of The Dyslexia Checklist: A Practical Reference for Parents and Teachers.
Just a couple days ago, I talked with Judith about Putting on the Brakes, now celebrating its 20+ year in print as it was recently chosen to be included in a new initiative in the UK titled Reading Well for Young People. This program is part of the a very successful Reading Well Books on Prescription scheme that provides 13-18 year-old kids with high-quality information, support, and advice on a wide-range of mental health issues.
Tell us, what is Putting on the Brakes about? Putting on the Brakes: Understanding and Taking Control of Your ADD or ADHD is a book written for children so they can understand what it means if they have ADD or ADHD and learn lots of strategies to deal with it.  Kids with ADD are as smart, talented, humorous and capable as their friends and classmates.  Once they learn good ways to manage their ADD or ADHD, life at home and school gets much easier.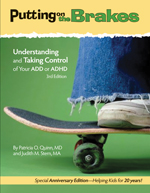 What inspired you to write this book? My co-author Dr. Quinn was a pediatrician and I was a teacher.  We met each other for the first time and liked each other, because we both worked with and cared about children.  Dr. Quinn thought it would be a great idea for us to work on a kids' book together about ADD and ADHD, since at that time there were no books for children on that subject.  We thought this would give kids a valuable tool to learn about themselves and feel good about who they are.
What's your favorite story from making this book?  People often tell me how important my books have been for their children.  One mother told me a funny story about her son just being diagnosed with ADD and wanting to know what it was.  She called her neighbor, who came running over in her pajamas to bring him a copy of Putting on the Brakes!
What do you do when you're not writing books? I teach children from preschool through college.  I also consult with their parents and teachers and give lots of workshops to parents and professionals.
How does it feel to be a published author?  Since I've always loved books, I feel very proud each time one of my books is published.  It's also very exciting to see my books translated into so many languages and know that kids all over the world are reading them.
Do you have any fun facts to share that readers might not know?  Did you know that many successful people have ADD or ADHD or learning disabilities?  They were able to accomplish many wonderful and important things in their lives, just like you will be able to do!
What children's book was your favorite when you were growing up?  One of my favorite books when I was a child was Charlotte's Web.  I loved the characters.  To this day, I have never been afraid of spiders.  I have enjoyed reading this book to my children and now to my grandchildren.  It really takes you to another "world."
Thanks Judy!